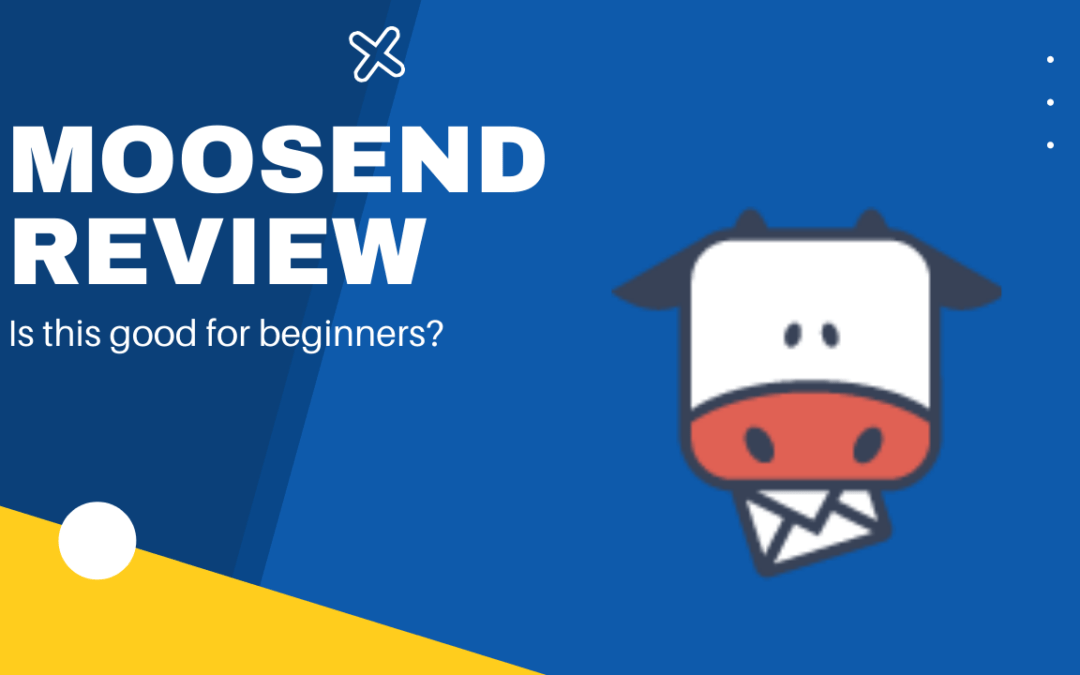 No Coding knowledge Requires
No FREE Plan, But a 30 day free trial available
Summary: Moosend is a great email marketing tool for beginners and newbies who are just starting out their Digital Marketing journey. If you are looking for an affordable and easy to use tool, Moosend is the best option for you.
Moosend doesn't have a lifetime FREE Plan, but it's provides you a 30 day free trial of all the premium features it has. So it is worthy to give it a try if pricing is not a factor for you.
Moosend could be a great tool for you if you are just starting out email marketing. It will provide you all the features that are required for an email marketer. 
But, is this the 'Perfect' tool for you or your business? Let's try to find out by having a detailed overview of this.
In this blogpost, you will going to have a detailed overview of Moosend email marketing tool. Including its features, pricing, it's pros and cons etc.
Moosend Features
Moosend is one of the easiest tool to use for every digital marketer. So, let's have a look at every important feature of moosend one-by-one.
1. Email Campaign Creation
 When it comes to create an email campaign, Moosend provides you 5 different types of campaigns.
You can easily create an email campaign with ease using it's drag and drop builder. Plus, it also provides you 70+ premade email templates.
You can use them to create beautiful and personalized email campaigns. The best thing is that, you can create your own template and save them into your moosend library for future use.
Have a look at this video to understand more about it.
2. Moosend Automation
Moosend provide you pre-made recipes, so that the users can easily create different automations, such as welcome series emails, abandoned cart sequences, etc.
Users can easily create number of automations for their business using the workflow builder.
Plus, it provides you various triggers and actions setup that will help you to create these automation in a less amount of time.
Have a look at the video(given below) to see the glimpse of Moosend Automations.
3. Forms and Landing Page
Just like the email builder, Moosend provides you a drag and drop landing page and form builder that you can use to generate leads and getting sign-ups for your newsletter.
It also provides you number of landing page and templates along with spam protection.
4. Advanced Reporting and Analytics
Moosend provides you basic and advanced reporting analytics, so that you can track and improve your email campaigns and your deliverability rate as well.
You can easily track the open rate, link click rate, bounce rate, subscribes & unsubscribes and your conversion rate as well.
All these reports and analytics can be shared within a click of a button.
Needless to say, Moosend's Advanced Reporting and Analytics can help you to achieve your desired results.
Watch this demo video (given below) to see the tracking and analytics system of moosend.
5. Moosend Integrations
When it comes to choosing the right email marketing software for your business, make sure that the tool you choose have a number of integration options available.
Luckily, moosend provides you various native integrations options. Whether you are looking for a CMS, CRM, ecommerce or a lead generation tool integration, moosend will provide you whatever you need. 
Plus, you can also integrate it with Zapier, which will eventually provide you more integration options.
Moosend Pros and Cons
What we Liked:-
1. Beginner Friendly: Moosend's user interface is best for beginners. So, if you are just starting out and want to learn about email marketing, Moosend is the most simple yet effective tool for you.
In fact, in 2020, Moosend was considered as the #1 tool in terms of 'Ease of Use' of any email marketing tool.
2. No coding knowledge required: Unlike other email marketing tool, such as convertkit, you don't need coding knowledge to operate this software. 
This will save your lots of time and efforts, and you can create your email campaign easily.
3. Real time Analytics:- Moosend provides you real time analytics of your email campaigns. Plus, you can easily share it with anyone. 
This real time analytics will help you in the long run.
What we Didn't Liked:-
1. No FREE plan: Recently Moosend closed their forever FREE plan and launched a new 30-Day FREE trial for it's users. I am really disappointed by this because I really liked their free plan.
Though the free plan had some limitations, but overall it was really good for beginners.
2. Low Deliverability: Another big issue with moosend is their low deliverability rate. Despite having amazing UI & UX , moosend's email  deliverability rate is really low.
Approx. Deliverability rate
Moosend Pricing
Moosend charges on the basis of the total number of email subscribers you have in your email list. But they also have a pay-as-you-go plan feature.
Needless to say, They have a 30-Day free trial available for new users. You can try their every feature for free for 30 days. So, it is worth to give them a try and see if it suits your business or not.
My Honest Opinion
You've found everything about in this post. Now, it's time for you to make your decision about whether should you use moosend or not.
Personally, I am using moosend for my email campaign and automations since November 2021. And I quiet like this tool for email marketing.
I highly recommend this tool to everyone who is new to email marketing.
That's my honest opinion about moosend.